Country Carrot Cake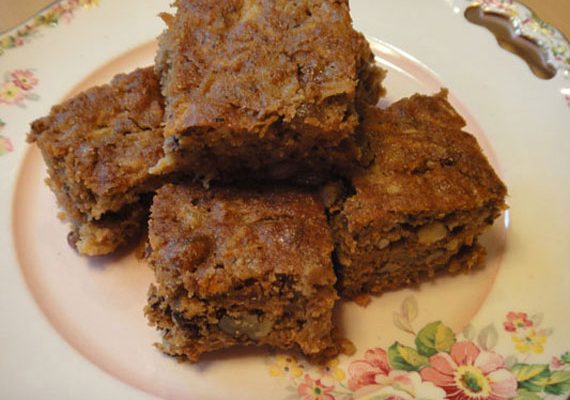 THE STORY
Don't you just wish sometimes you were out in the country, especially when it's snowing outside? Thinking log cabin here with fireplace stoked, mulled cider in mugs and a tasty treat to tuck into while curled up on the couch reading a good book. Our Country Carrot Cake comes to mind. It's moist and flavour packed, the raisins seem to just melt in your mouth and if you really want to go all out - have it with Honey Cream Cheese Frosting on top. Be warned though - it's really hard to just eat one piece!
Prep time: 25 minutes
Cook time: 50 minutes
Total time: 1 hour 15 minutes
INGREDIENTS
1 cup Raisins (we prefer Sultanas for this but any kind will work)
2 1/2 cups Nunweiler's Organic Whole Grain All Purpose & Pastry Flour
1 tsp Baking Soda
1 tsp Baking Powder
2 tsp Cinnamon
2 Free Range Eggs
1 tbsp Ground Organic Flaxseed
3 tbsp Water
1 cup Organic Coconut Palm Sugar
1/2 cup Olive Oil
1/2 cup Unsweetened Applesauce
1 cup Crushed Pineapple with Juice
1 tsp Pure Vanilla Extract
1 cup Chopped Walnuts
2 cups grated Carrots (4-5 medium)
DIRECTIONS
Preheat oven to 350ºF/180ºC. Grease 9" x 13" baking dish.
Place raisins in saucepan and cover with cold water. Bring to a boil and remove from heat.
Spoon flour into measuring cup, level off and place in large mixing bowl. Add baking powder, soda and cinnamon. Stir to combine well.
In a small bowl mix ground flaxseed and water together. Add it together with eggs into medium size bowl. Beat together well. Add brown sugar, oil and applesauce beating after each addition.
Drain raisins well and add with crushed pineapple to egg mixture. Add vanilla, mix to combine.
Add chopped walnuts and carrots to flour mixture. Mix until carrots are well coated with flour.
Add liquid ingredients into flour mix and stir only to combine.
Pour into greased pan. Bake for 50 minutes or until cake tests done.
Cool for 10 minutes. Remove from pan if desired. Cool completely.
Frost with Honey Cream Cheese Frosting (listed under Tidbits) if desired.