Crush Your Own Pineapple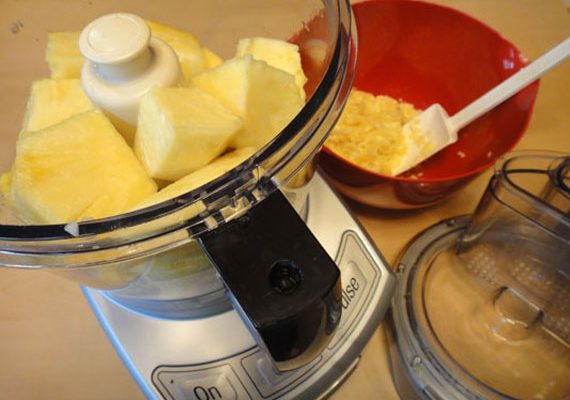 THE STORY
We like to have crushed pineapple on hand to use in recipes like our "Simply Amazing Morning Muffins" or "Country Carrot Cake". While we could open a tin from the pantry, nothing tops fresh ingredients or the next best, thawed from the freezer. This way we know it will be delicious and sweet tasting. Sometimes we've opened a can to find the pineapple was obviously picked and processed before it was ripe so the flavour isn't quite there. Using your own, you know how sweet the pineapple is because of course you've sampled it - right?
It is so easy to make your own. Simply trim off the top, bottom and sides around your fresh pineapple. Give it another rinse under the tap and a quick pat dry. Chop up the pineapple into 1" or so chunks but discard the centre core. No need to be too fussy here, just want smaller pieces to make it quicker and easier to process.
Place pineapple chunks in your food processor and pulse a few times until the pineapple is down to small little pieces. Do not let it run steady or you will end up with pineapple sauce - unless that is what you were wanting.
We generally get approx 5 cups of crushed pineapple. To store the extra cups that you don't need right away - freeze them in small 125mL jars. Each one hold a cup - perfect for our recipes. Be sure to label top of the lid (we used painters tape as freezer tape is getting harder to find).
Thaw as needed for your recipes.