Healthy Granola Bites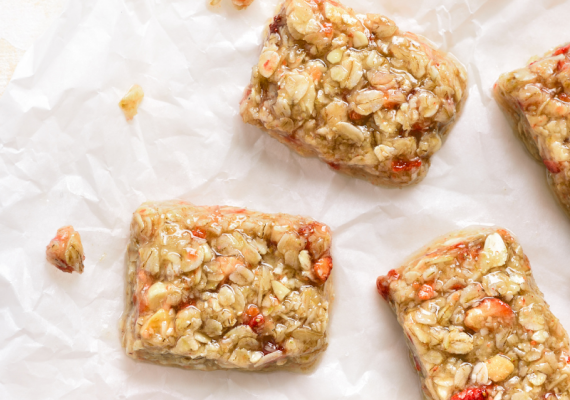 Ingredients
•           ¾ cup Nunweiler's rolled oats,
•           1 cup water
•           ¾ cup packed pitted Medjool dates
•           ½ cup chia seeds
•           ¼ cup raw sunflower seeds
•           ¼ cup raw pumpkin seeds
•           ¼ cup dried strawberries, finely chopped
•           1 teaspoon cinnamon
•           1 teaspoon pure vanilla extract
•           ¼ teaspoon fine grain sea salt
Directions
•Preheat oven to 325F and line a 9-inch square pan with two pieces of parchment paper, one going each way.
•Add water and pitted dates into a blender. Allow the dates to soak for 30 minutes if they are a bit firm, or your blender has difficulty blending dates smoothly. Once they are soft, blend the dates and water until super smooth.
•Add all of the ingredients into the bowl with the oats and stir well until combined.
•Scoop the mixture into the pan and spread it out with a spatula as evenly as possible. You can use lightly wet hands to smooth it down if necessary.
•Bake at 325F for about 23-25 minutes, or until firm to the touch. Let cool in the pan for 5 minutes and then lift it out and transfer it to a cooling rack for another 5-10 minutes. Slice and enjoy!
•We suggest freezing leftovers to preserve freshness.