Hearty Breakfast Muffins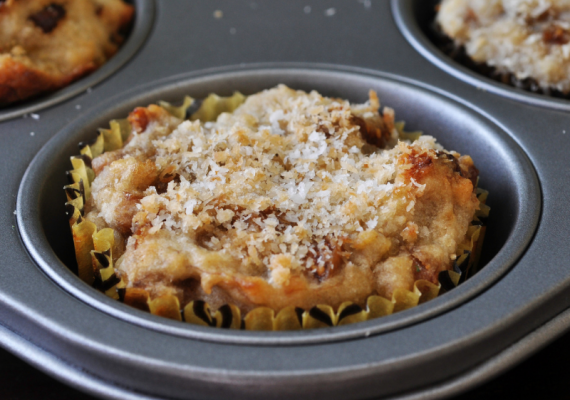 Ingredients
•           1 cup Nunweiler's Oat Flour
•           1 cup Nunweiler's Rolled Oats
•           ¼ cup honey
•           2 ½ teaspoon baking powder
•           ½ teaspoon sea salt
•           1 teaspoon cinnamon
•           ½ teaspoon nutmeg
•           1 teaspoon ginger
•           2 cups bananas, ripe and mashed
•           2/3 cup applesauce
•           1/3 cup carrot, shredded
•           1 large egg
•           2 tablespoons butter, melted
•           ½ cup slivered almonds
•           ½ cup walnut pieces
•           2 tablespoons butter, melted
•           1/3 cup brown sugar
•           ½ teaspoon cinnamon
•           ½ teaspoon nutmeg
•           ½ cup raisins
Directions
•Preheat oven to 375.
•Line muffin pan with cups, if desired.
•Spray each cup with non-stick cooking spray.
•Combine the first eight ingredients in a large mixing bowl. Stir until well blended.
•In a smaller bowl, combine the following five ingredients (bananas – butter), stir until well blended.
•In another small bowl, combine the following six ingredients (almonds – nutmeg) for muffin topping.
•Add banana mixture to the flour mixture along with the raisins if you desire.
•Stir just until moistened. Do not over stir.
•Fill muffin cups 2/3 way complete.
•Press enough of the brown sugar-nut topping into each muffin to cover the top and to your taste. About 2 Tbsp per muffin.
•Bake at 375 for about 20 minutes until the muffin springs back when lightly touched.
•Makes 16 small muffins or eight giant-sized muffins.