Homemade Whole Grain Panko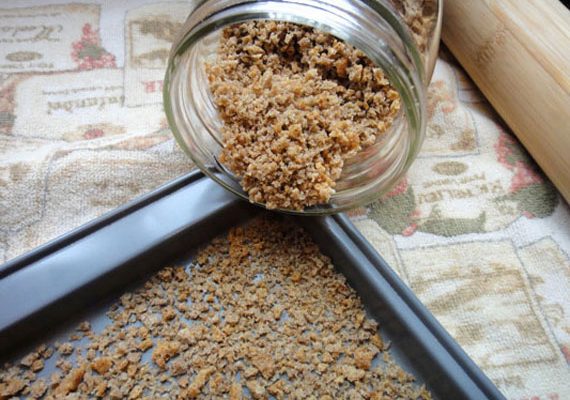 THE STORY
Making homemade bread isn't always easy. Sometimes things just go sideways and it comes out of the oven with disappointing results. Besides the time and car you took to make it, you realize, ughhhh the ingredients that were wasted.
Wait a minute . . . don't throw out that brick or flop or . . . ? (whatever name you have for your not so nice loaf). Let it cool. Slice off a piece. If it doesn't meet your expectations enough to keep - make it into Panko and/or bread crumbs. It's very easy.
Before you start we recommend that you wait until the next day so that the bread is completely cooled. However, don't wait several days though because the bread starts to dry out too much and it doesn't chop up as nice into textured crumbs.
With a blade in your food processor, tear or cut up roughly 1 - 2" pieces of the loaf and place in bowl. Don't overstuff. Do it in batches. Pulse several times and have a look. When the pieces are down to tiny little bits - dump out the crumbs onto a dry rimmed cookie sheet (no need to spray, grease or use parchment - it isn't necessary). Gently swoosh the tray to help spread out the crumbs so that they are spread evenly out and aren't piled up. You may have several trays depending on the size of bread.
Place them in a 250ºF/130ºC oven for 15 minutes. Remove and let cool completely. Store in labelled jars in a cool, dark place.
The next time a recipe calls for Panko or bread crumbs you'll have a great supply. These crumbs are much tastier, more nutritious and there are no UFO's from the ingredients listed in store bought products - just what you made your bread with and hopefully it was organic whole grains. We like that!