Low-Sodium Coffee Cake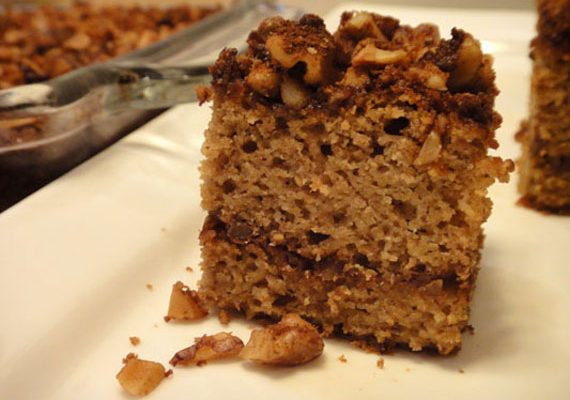 THE STORY
It's an endearing German tradition to sit down for Kaffee & Kuchen (Coffee & Cake) in the afternoon. this coffee cake is the perfect match but it goes well with tea or a latte too. Even though it's low-sodium it doesn't lack flavour. It's moist and tender. The centre and topping have a nice walnut-cinnamon crunch. At only 186 calories per square - that's a pretty light snack for cake.
The butter was reduced by using applesauce and instead of two eggs, one was replaced with a ground flaxseed slurry. As an alternative, you can use sour cream instead of yogurt and go back to two eggs if you prefer.
Using our Whole Grain Pancake Mix gives you a little less to do in the kitchen, which means getting this cake into the oven in time for Kaffee & Kuchen.
NUTRITIONAL INFORMATION
(Serving size: 1 square) Calories: 186, Fat: 10g, Saturated fat: 3g, Unsaturated fat: 1g, Trans fat: 0g, Carbohydrates: 13g, Sugar: 7g, Sodium: 80mg, Fibre: 2g, Protein: 3g, Cholesterol: 29mg
Prep time: 20 minutes
Cook time: 50 minutes
Total time: 1 hour 10 minutes
INGREDIENTS
Topping

1/2 cup Organic Coconut Palm Sugar
2 tsp Cinnamon
3/4 cup Chopped Walnuts
Batter

1/2 cup No-Salt Butter
1/2 cup Organic Coconut Palm Sugar
1/2 cup Unsweetened Applesauce
1 Free Range Egg
1 tbsp Ground Flaxseed
3 tbsp Water
1 tsp Pure Vanilla Extract
1 cup Non-Fat Yogurt
2 cups Grandma Nunweiler's Whole Grain Pancake & Waffle Mix
DIRECTIONS
Preheat oven to 350ºF/180ºC. Grease 8" x 8" glass baking dish.
In a small bowl mix topping ingredients and set aside.
In a large bowl, cream butter and coconut palm sugar together well. Stir in applesauce and mix until well blended. Beat in egg.
In a cup, mix flaxseed together with water to make a slurry. Stir into mix and blend well. Stir in yogurt and vanilla.
Add in pancake mix and fold in until dry mix is incorporated. Don't over mix.
Spread half of batter into greased baking dish. Batter will be fairly thick. Sprinkle half of topping over batter, then remaining batter, then remaining topping.
Bake for about 50 minutes to 1 hour. Cool well before serving.