Pizza Buns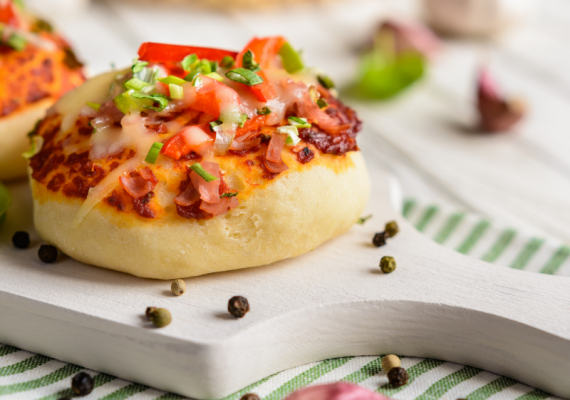 Ingredients
•           2 ½ cups Nunweiler's Spelt flour
•           2 teaspoons sugar
•           1 teaspoon salt
•           2 ¼ teaspoons instant yeast
•           1 cup warm water
•           1 tablespoon neutral oil of your choice
For the toppings:
•           1 ½ cups pizza sauce
•           3 cups cheddar cheese
•           Veggies and meat of your choice
Directions
•For the dough: In a large bowl or the bowl of a stand mixer fitted with the kneading hook, mix 2 cups of flour, sugar, salt and instant yeast. In a measuring cup, combine the warm water with the oil. Add the water mixture to the dry ingredients and mix to combine. Knead by hand or with the mixer, add more flour in small increments, as needed, until the dough comes together into a smooth dough. It shouldn't stick to your hands or be dry and crumbly. Grease a bowl and place the dough ball into the bowl. Cover with plastic wrap and let rise until doubled, about 30 – 45 minutes, depending on how warm your kitchen is.
•Prepare two baking sheets by lining each with a sheet of parchment paper. Set aside.
•Remove the dough to a floured cutting board. Cut the dough evenly in half. Cut each half in half again. Cut each piece in half again and then in half again to make a total of 16 roughly equal-sized pieces.
•Take a piece of dough. Form it into a rough ball, then stretch into a circle about 4-5 inches in diameter. (You don't need to stretch them entirely at this point. Once the dough has rested a few minutes on the baking sheet, it will be easier to shape so that you will be going back and stretching them out a second time later.) Place the dough circle onto the prepared baking sheet. Repeat with each piece of dough, placing eight on each on the prepared sheets (you can put them fairly close together as they don't spread much, but don't allow them actually to touch each other). Go back to the first pieces you formed and stretch them a little more, as needed.
•With all your rolled dough on the baking sheets, using a teaspoon from your cutlery drawer, top each piece of dough with two heaping teaspoons of pizza sauce, spreading it over the top, going as far to the edges as you can without it going over the sides. Top with a generous amount of shredded cheddar cheese. Repeat with all the buns. Let stand 20 minutes while you preheat the oven.
•With racks in the upper and lower third of your oven preheat the oven to 375° F. with the rack in the centre of the oven. After buns have stood for 20 minutes or so (or until they look a little puffy around the outside edges), bake in preheated for 20-25 minutes, switching the pans from top to bottom halfway through baking. Cook until well browned. Remove from oven and cool on baking sheet for about 5 minutes, then remove to a cooling rack to cool completely. Enjoy immediately or cover and refrigerate. Or see below for freezing instructions!
•Freezing: These buns freeze well. Freeze them on a baking sheet and then transfer them to a freezer bag. To enjoy straight from the freezer, no need to thaw. Place the frozen buns on a baking sheet and warm in a preheated 400° oven for 7 or 8 minutes.