Simply Amazing Morning Muffins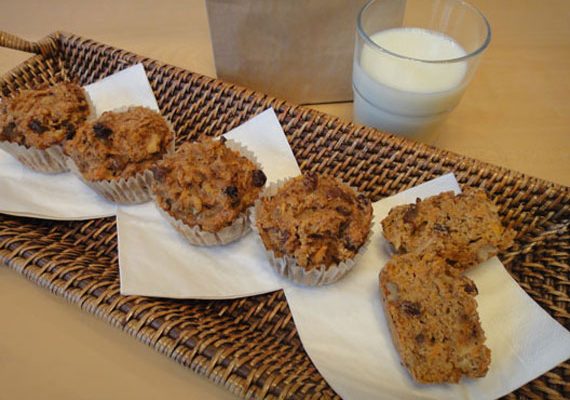 THE STORY
We all know that breakfast is the most important meal of the day. Sometimes in the morning we seem to have the least amount of time. That's why these scrumptious muffins work so well. This recipe uses Grandma Nunweiler's Whole Grain Pancake & Waffle Mix - a bit of a time saver as some of the ingredients are already in the mix.
One muffin is only 123 calories and contains antioxidants, omega 3's, vitamins like A, C & E, minerals like selenium, potassium, manganese and much more! It's low in fat, cholesterol and even sodium. Have an 8 oz glass of milk along with this muffin and you've boosted your protein from 3g (muffin) to over 11g. That's a great start to your day. The bulk of carbs in these muffins come from complex carbs that you need for a good energy start to your day. They cover so many nutrition bases, yet taste great - that's simply amazing!
NUTRITIONAL INFORMATION
(Serving size: 1 muffin) Calories: 123, Fat: 3g, Saturated fat: 1g, Unsaturated fat: 2g, Trans fat: 0g, Carbohydrates: 21g, Sugar: 13g, Sodium: 79mg, Fibre: 2g, Protein: 3g, Cholesterol: 23mg
Prep time: 20 minutes
Cook time: 20 minutes
Total time: 40 minutes
INGREDIENTS
2 cups Grandma Nunweiler's Whole Grain Pancake & Waffle Mix
1/2 cup Organic Coconut Palm Sugar
1/4 tsp Fresh Ground Nutmeg
2 tsp Cinnamon
1 tbsp Ground Flaxseed
3 tbsp Water
2 Range Free Eggs
1 cup Crushed Pineapple with Juice
2 tsp Pure Vanilla Extract
3 cups Grated Carrots
1 cup Raisins
1/2 cup Chopped Walnuts (optional)
DIRECTIONS
Preheat oven to 400ºF/200ºC. Line 18 muffin tins with paper liners.
Spoon pancake mix into measuring cup and place in large bowl. Add sugar, nutmeg and cinnamon. Gently whisk together. Set aside.
In a small bowl add ground flaxseed with water and stir to make a slushy paste. Beat in eggs, one at a time. Add in crushed pineapple with juice and vanilla. Stir in until well blended.
Fold carrots, raisins (and walnuts if using) into flour mixture. Make sure all ingredients are well covered with flour. Make a well in centre.
Pour in liquid ingredients and stir only to moisten. Spoon into muffin cups 3/4 full.
Bake for 20 - 24 minutes or until muffins spring back when lightly touched and are nicely browned. Remove from pan and place on rack to cool.