Spelt Chocolate Chip Cookies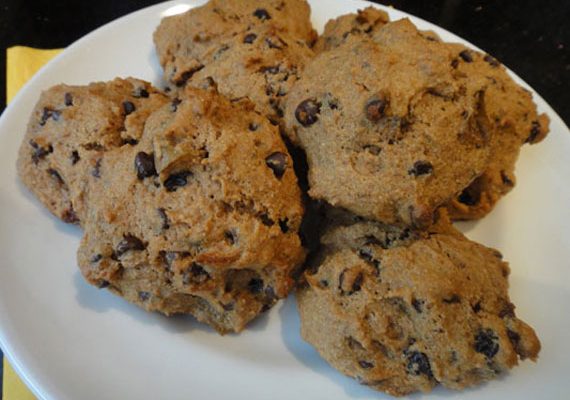 THE STORY
How these cookies got their name is a bit of a mystery. It's what our Mom called them when we were little. It may have come off the package of oats back in the day but it 's been in the family for years now and adjusted, adapted, changed, stuff added in, stuff taken out – it still remains a popular go-to base for cookies. We always find it reliable.
Years ago we switched the shortening out and replaced it with butter. Now we've managed to reduce the amount of butter by using less and including an avocado. It worked so well in our Surprise Spelt Brownies, we couldn't wait to try it in our cookies. An alternative to an avocado if you don't have one handy is applesauce. We found the applesauce makes the cookies slightly more cake like, compared to the avocado.
Our recipe includes the basics – rolled oats, raisins & cranberries. Options that you can toss in – chocolate chips, shredded coconut, nuts, dates – whatever you like – in any combination. Jack & Jill won't be tumbling down the hill – they'll be running to the kitchen to get 'em hot out of the oven!
NUTRITIONAL INFORMATION
(Serving size: 1 cookie) Calories: 122, Fat: 5g, Saturated fat: 3g, Unsaturated fat: 2g, Trans fat: 0g, Carbohydrates: 17g, Sugar: 10g, Sodium: 45mg, Fibre: 10g, Protein: 3g, Cholesterol: 19mg
Prep time: 20 minutes
Cook time: 15 minutes
Total time: 35 minutes
Servings: 36
INGREDIENTS
1 cup Raisins
1/2 cup Water
1/2 cup No-Salt Butter
1 cup Unsweetened Applesauce
3/4 cup Organic Coconut Palm Sugar
2 Free Range Eggs
1 1/2 tsp Pure Vanilla Extract
3 cups Nunweiler's Organic Whole Grain Spelt Flour
1/4 cup ground Organic Flaxseed
1 tsp non-alum Baking Powder
1/2 tsp Baking Soda
1/2 tsp Himalayan Sea Salt, fine grind
3/4 cup mini Chocolate Chips
DIRECTIONS
Preheat oven to 350ºF/180ºC. Line baking sheets with parchment paper.
Place raisins in small saucepan, add water. Bring to a boil, stir occasionally until all liquid has been absorbed by the raisins. Set aside to cool.
In a large bowl, cream softened butter. Add applesauce then sugar gradually and cream well. Add eggs, one at a time, beating well after each addition. Add vanilla, stir to combine.
Spoon flour into measuring cup, level off and place in small mixing bowl. Add baking powder, baking soda and sea salt. Stir to combine well.
Add in cooled raisins to flour mixture, stir around to coat raisins.
Add flour mixture to creamed bowl and stir to combine all. Mix in chocolate chips.
Drop by teaspoonful onto prepared baking sheets.
Bake for 12 - 15 minutes or until lightly browned.
Cool 2 minutes on sheet then remove to rack to cool completely.