Surprise Spelt Brownies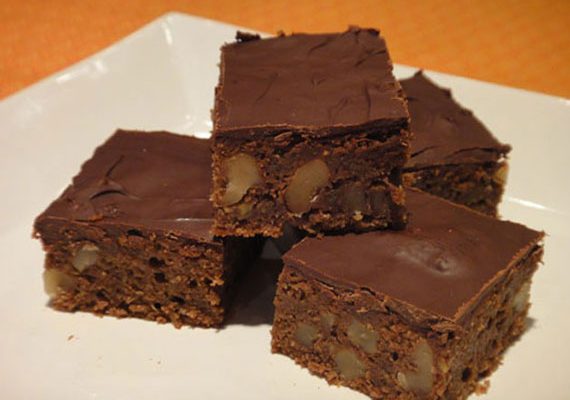 THE STORY
When it comes to Brownies - it's hard to eat just one. We love them and with Nunweiler's Flour Co.'s 25th Anniversary in 2013 we thought it was time to bring this recipe up-to-date by reducing the fat and sugar without sacrificing taste.
The original called for 3/4 cup butter - Yikes! That's a lot of saturated fat. Hard to leave butter out though - with that melt in your mouth texture, so we ended up whittling it down to 1/4 cup. What worked to replace the missing 1/2 cup butter? Applesauce of course and the new 'kid on the block' butter replacement - an 'Avocado'. Think about it - a fully ripe Avocado has the same creamy texture as butter. Even though there is fat in an Avocado - it's the healthier - mono and polyunsaturated. Not to mention Avocados are way lower in calories than butter, have no cholesterol, are nutrient rich in potassium, vitamin E, B-vitamins, folic acid, fibre - the list goes on. If you still prefer your brownies made with butter then go ahead and convert back to the original amount. We won't tell.
Sweet - to be or not to be? If you want your Brownies to be a rich, delicious dessert type - then keep the original 3/4 cup of sugar. The rework calls for 1/2 cup and a new type - Organic Coconut Palm Sugar. It's our new favourite sweetener. It has a deep caramel flavour and substitutes 1:1 for brown or white sugar and it's great to work with. It has a fine texture and doesn't get hard as easy as brown sugar can in the canister.
What you put on top of your Brownies is personal. Years, (many years ago) we used to slather butter on when they were hot out of the oven. Education and an awareness of our waistlines expanding says this is a 'no no' now. We prefer to toss a few more chocolate chips across the top and pop the brownies back in the over for a few minutes.
Spread the melted chocolate around and Voilà - a quick and easy topping. Different chips are going to change the sweetness level as well - Dark Chocolates Chips (less) up to Milk Chocolate Chips (more). Get creative - try Mint Chocolate Chips. You decide - they're your Brownies!
NUTRITIONAL INFORMATION
Nutritional Facts include walnuts and chocolate chips spread on top.
(Serving size: 1 square) Calories: 139, Fat: 19g, Saturated fat: 3 g, Unsaturated fat: 16g, Trans fat: 0g, Carbohydrates: 14g, Sugar: 8g, Sodium: 54mg, Fibre: 3g, Cholesterol: 34mg
Prep time: 15 minutes
Cook time: 2 minutes
Total time: 40 minutes
Servings: 16
INGREDIENTS
2 oz Dark Chocolate, preferably good quality
1/4 cup No-salt Butter, room temperature
1/3 cup Unsweetened Applesauce
1 ripe Avocado
1/2 cup Organic Coconut Palm Sugar
2 Free Range Eggs
1 cup Nunweiler's Organic Whole Grain Spelt Flour
1/2 tsp non-alum Baking Powder
1/4 tsp Himalayan Sea Salt, fine grind
1/2 cup chopped Walnuts (optional)
1/4 cup Dark Chocolate Chips (optional)
DIRECTIONS
Melt chocolate in a small pan over simmering water. Set aside.
Preheat oven to 350ºF/180ºC. Grease 8" x 8" baking pan.
Peel avocado and remove stone. Mush up with a fork. (Avocado should be very soft, not firm.)
In a large mixing bowl, cream softened butter with avocado. Gradually add in sugar continuing to mix. Add eggs, one at a time, beating well after each addition.
Spoon flour into cup. Level off and place in small mixing bowl. Add baking powder and salt. Stir to combine well. If adding walnuts, stir into flour mix.
Add melted chocolate to creamed mixture. Combine well. Add flour mixture and stir only to incorporate together.
Scrape out into prepared pan and spread evenly.
Bake 20 to 25 minutes or until done.
(Optional) Sprinkle with chocolate chips and return to oven for 2 - 3 minutes. Remove and spread melted chocolate over entire area.
Cool completely before cutting into squares.